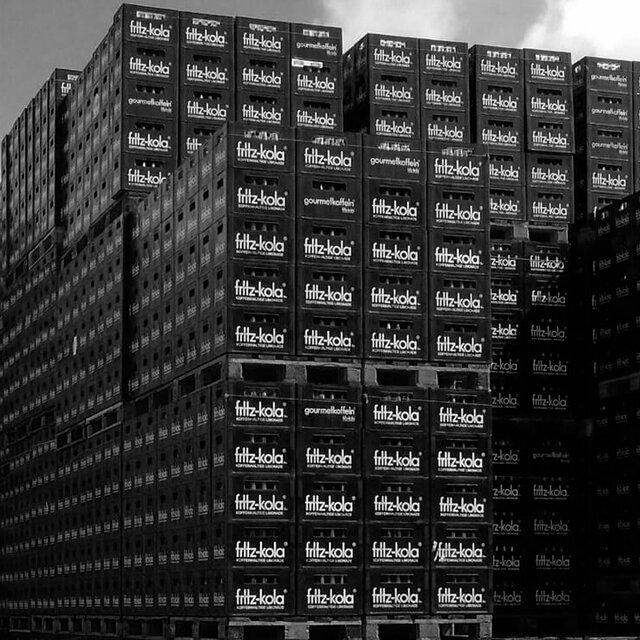 how we got where we are
an old vw van, a desire for independence and a simple idea – it can be done better. that's all it took to get started.
fresh out of uni and faced with that timeless question of what to do with their lives, friends mirco and lorenz found their answer: make something that makes time spent at their favourite places even better. not just another mass-produced cola, but one that stands for something. not too sweet, with lots and lots of caffeine to add fuel to those long nights.
all that was left was to slap some black and white labels of their faces on old beer bottles filled with highly caffeinated, high quality kola and done. meet fritz.
fritz has grown up quite a bit since then, expanding from their hamburg dorm room to an office on the elbe and to some of the coolest spots around the world. adding more flavours along the way and branching out into the art, music and sports scenes, but some things never change - high quality natural ingredients in glass bottles only. no compromises.
and so our journey continues, together with those of you choosing to go through life with both eyes open. because open eyes open minds.
it can be done better.
That's what two friends decide to do in 2002. Starting from scratch in their Hamburg dorm room with only a few thousand euros and a whole lot of determination they found fritz-kola. The mission: create a kola better than anything that "big cola" has to offer. No sooner said than done.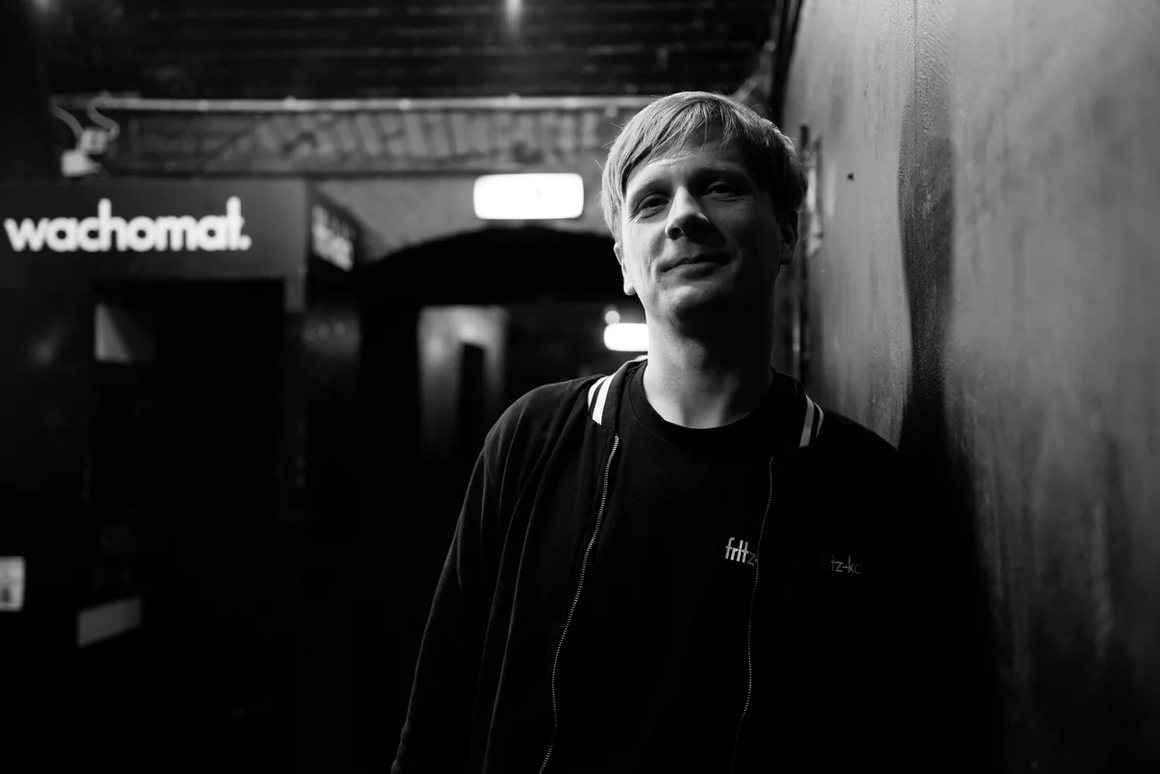 the birth of a better kola.
On the 28th of February the company 'Hampel und Wiegert GbR' is born, their headquarters – their dorm. By March they've won their first customers, leading to a second round of production in April. The products are stored in private rooms, the basements, gardens and garages of their parents - kicking their cars to the curb.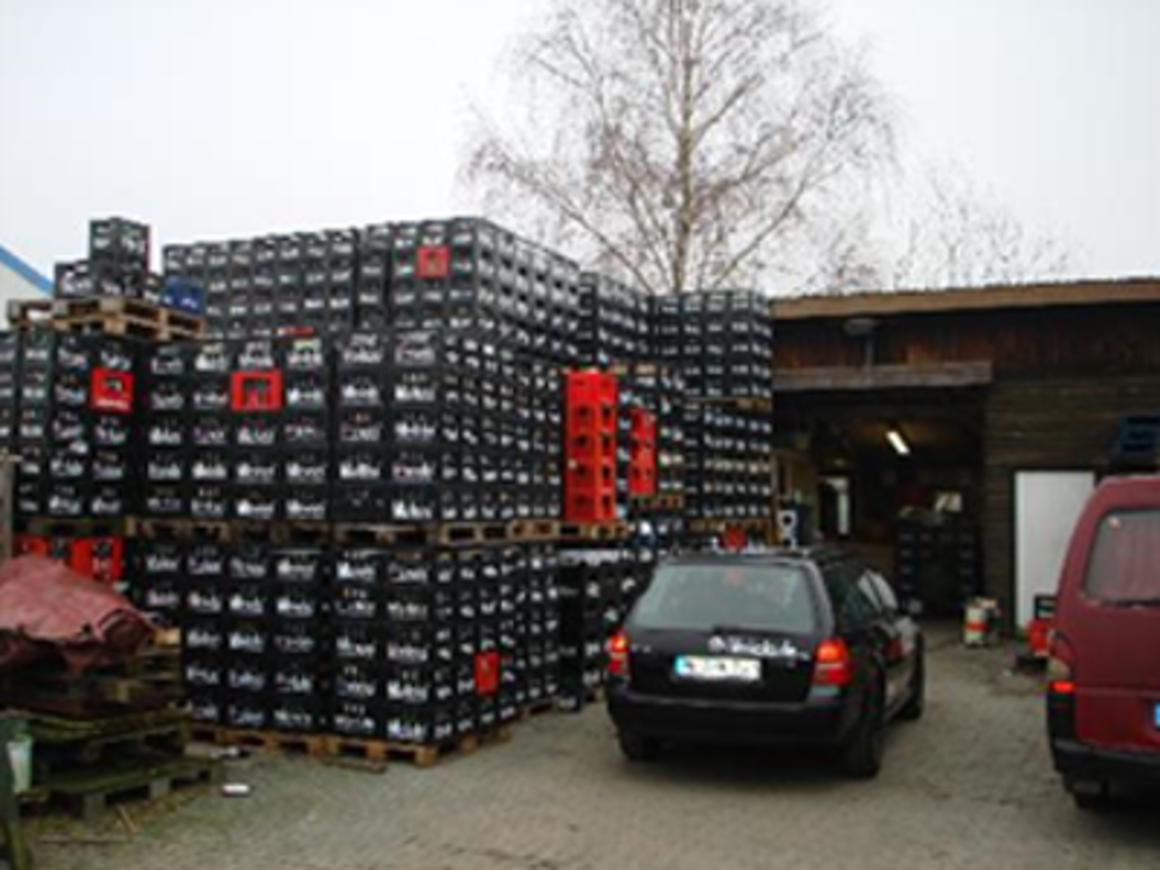 fritz gets fruity
Only a year after our launch, four exciting flavours are added to the product range. Two apple-based spritzers, a refreshing, citrus-flavoured lemonade straight out of childhood, made with a mouth-puckering mix of lemon and orange, and finally, The one and only honeydew-melon soda that has been adding a flavour-filled splash of colour to shelves ever since.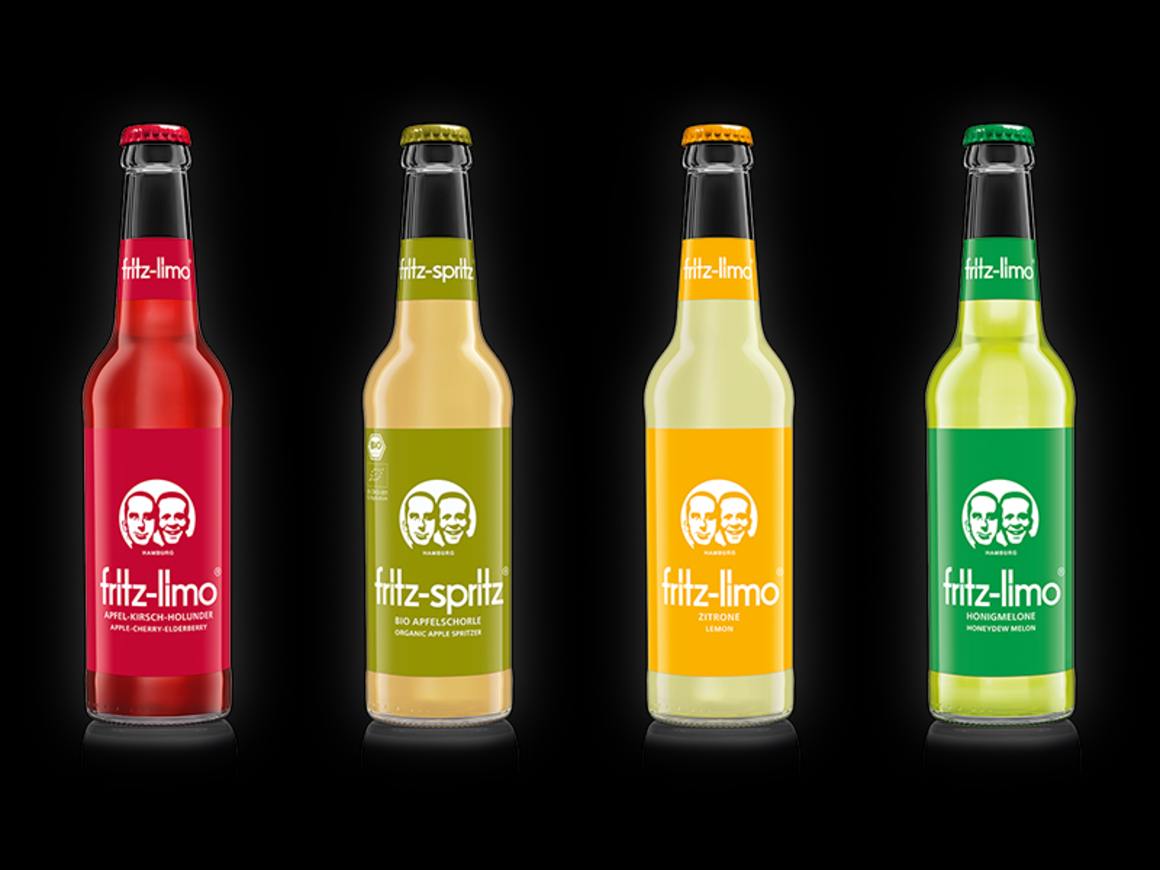 both eyes open
Good news times two. The launch of our sugar-free kola alternative. A perfect balance of taste and sweetness, with no added sugars, zero calories but lotsnlots of caffeine. next up, our barista's best - the coffee-kola soda with a robust coffee flavour and of course, lots of caffeine.
And with this all-star lineup we go international. Starting in the Netherlands, Spain, Austria and Switzerland.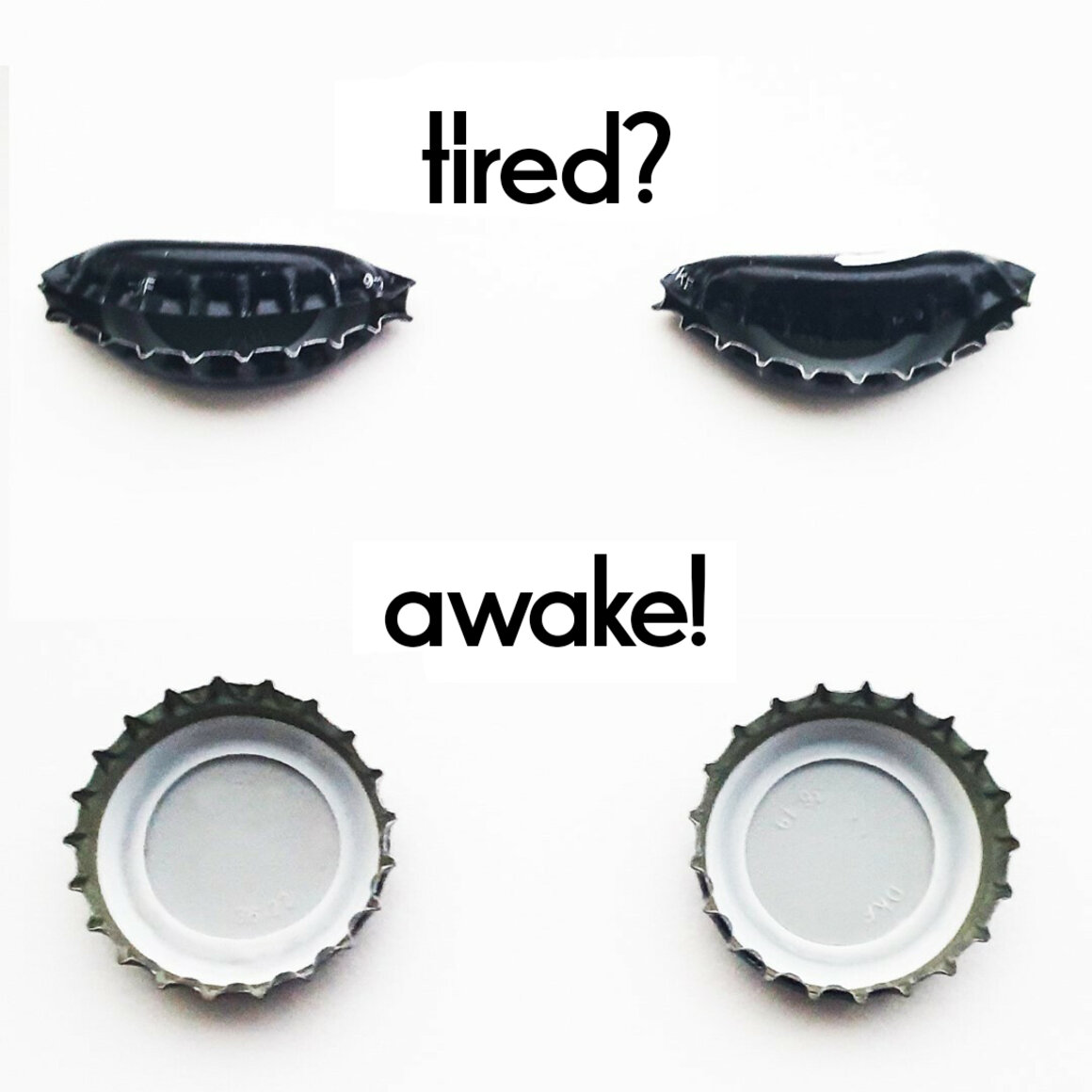 down to the river
In 2008 we make our way to the mighty Elbe, moving our office to Billbrook and changing our form – Hampl und Wiegert GbR becomes fritz-kola GmbH. But that's not the only thing that changes. As we continue to expand - an external sales team is formed.
Changes are afoot on the product side as well. Not only are the 0.2l bottles introduced, but another flavour is added to the family - our orange lemonade, a sun-filled bottle of joy all year round.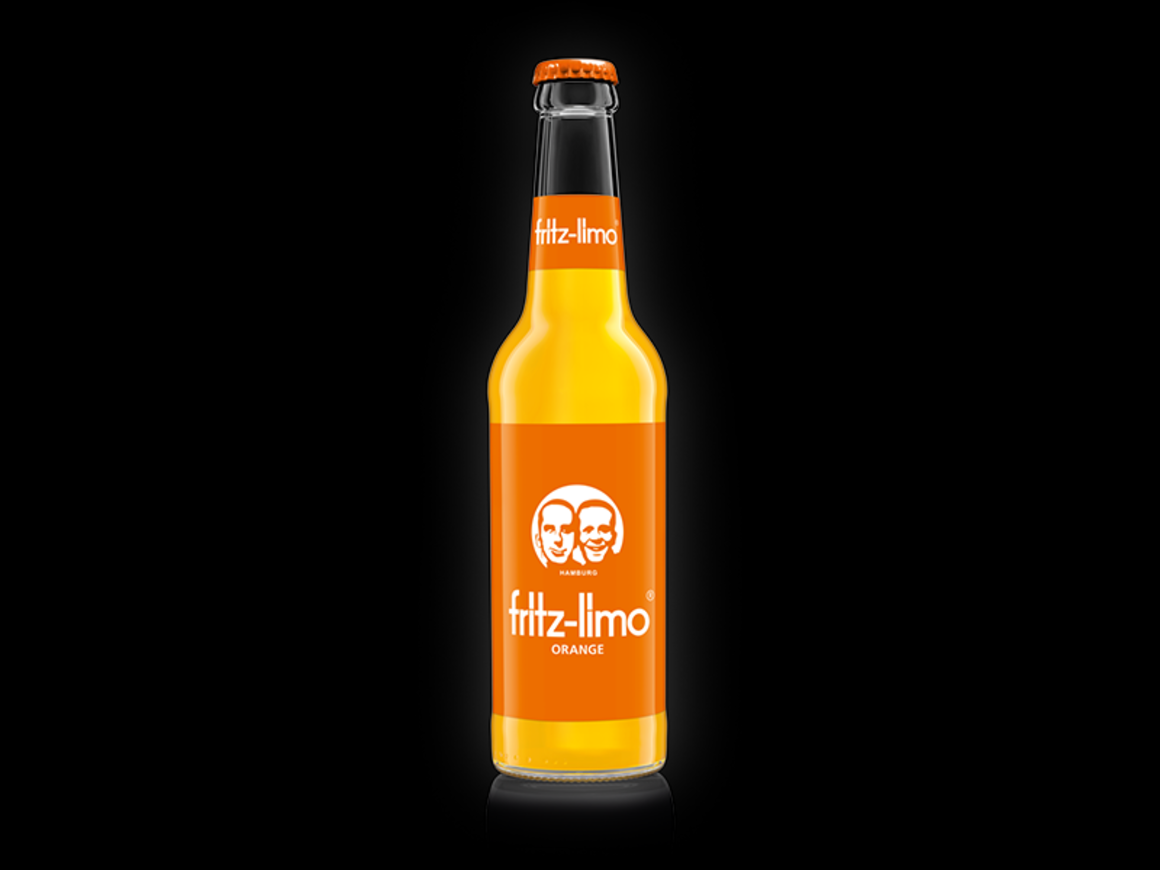 a time for celebration
A new year, another reason to celebrate. fritz-kola wins the "Hamburger Gründerpreis" (founder award) in "upcoming company of the year" category. But that isn't where the good news ends. in 2010 we also enter Denmark.
taking it up a notch
In 2011 we strengthen our commitment to sustainability and get rid of all the artificial flavours and colours in our lemonades while continuing to increase our quality. The honeydew-melon soda becomes a honeydew-melon lemonade with a fruit content of 5%. but even though we mixed it up a bit, it remains as unique and flavourful as ever.
The fritz-kola journey leads to Poland in 2011, adding another country to our export list.
That same year fritz-kola becomes the first kola sold in germany containing steviol-glycoside made of all-natural stevia.
the perfect mix
mischmasch joins our already colourful family, making it even more diverse. By mixing our original kola with orange lemonade, a vibrant "mishmash" of citrus and kola is combined to create a one-of-a-kind taste experience.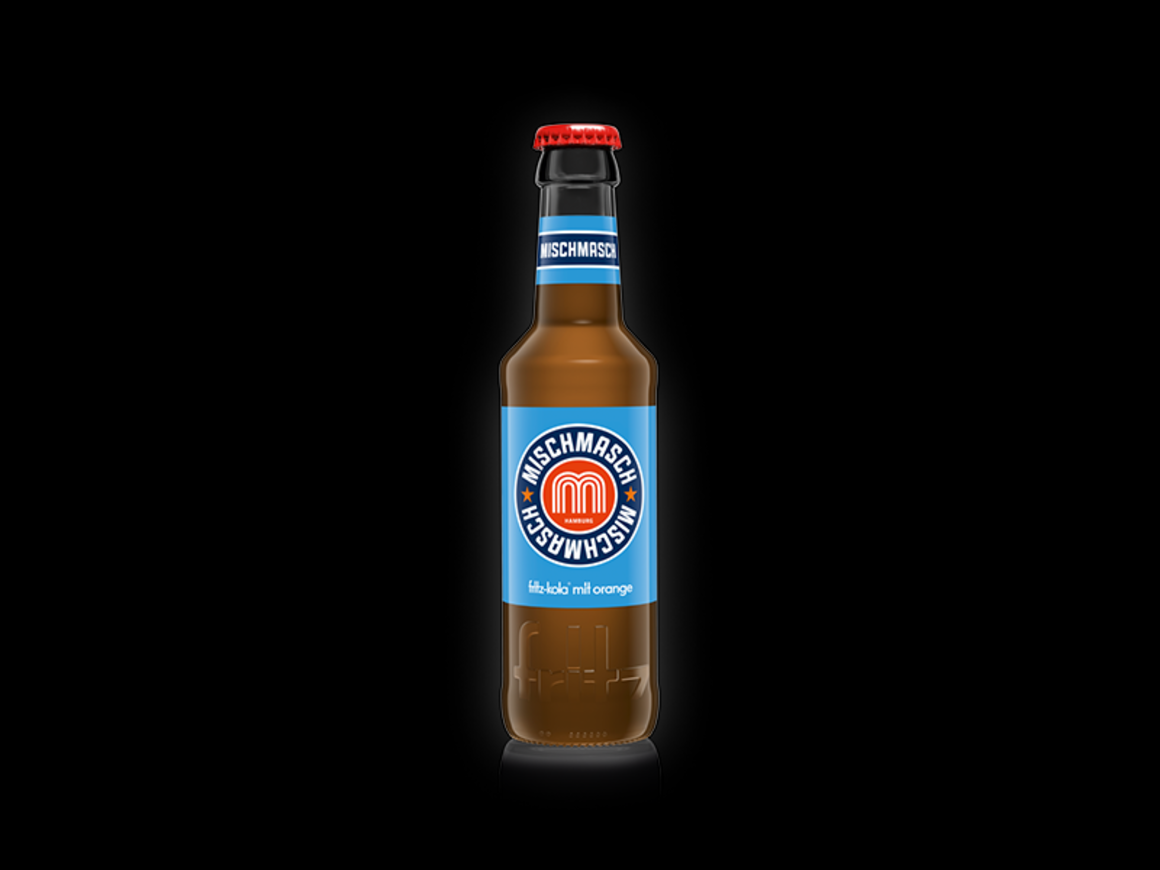 growing up, getting bigger
The 0.5l bottle is introduced. The handy screw cap is the perfect alternative for on the go. Available for mischmasch, apple spritzer and of course our original fritz-kola.
As we're always eager to broaden our horizons fritz-kola becomes fritz-kulturgüter (cultural goods), a purveyor of fine taste, in all domains.
New spritzers are brought to life in flavour-packed grape and rhubarb. The apple spritzer joins the family as well, switching from a lemonade to a spritzer – with all the spritzers of the highest organic quality. The rhubarb spritzer comes with 40% unconcentrated organic rhubarb juice, the grape spritzer with 50% and the apple spritzer with even more, at 66%. Each one tasting like it was freshly picked and pressed by grandma.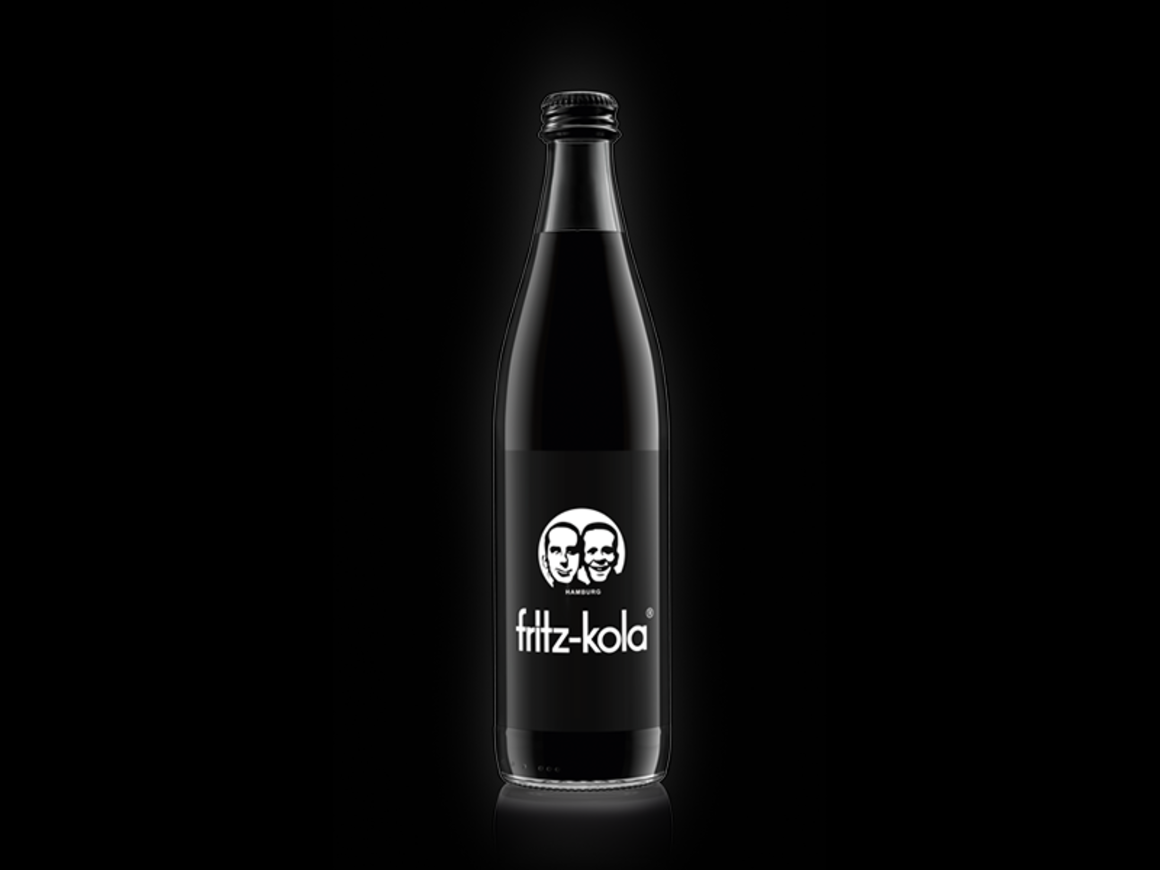 times are changing
More products are made available in the handy 0.5l bottles. Both fritz-lemonades as well as the fritz-kola no sugar.
In the middle of June 2016, we launch a product for all the restless wanderers - the fritz-mate, joining us in the 0.33l and 0.5l bottles. The perfect alternative to our kolas with just as much caffeine. one sip and your tastebuds wake up in the amazon.
In December, Lorenz Hampl, one of our two founders steps down, leaving Mirco Wiegert as sole CEO.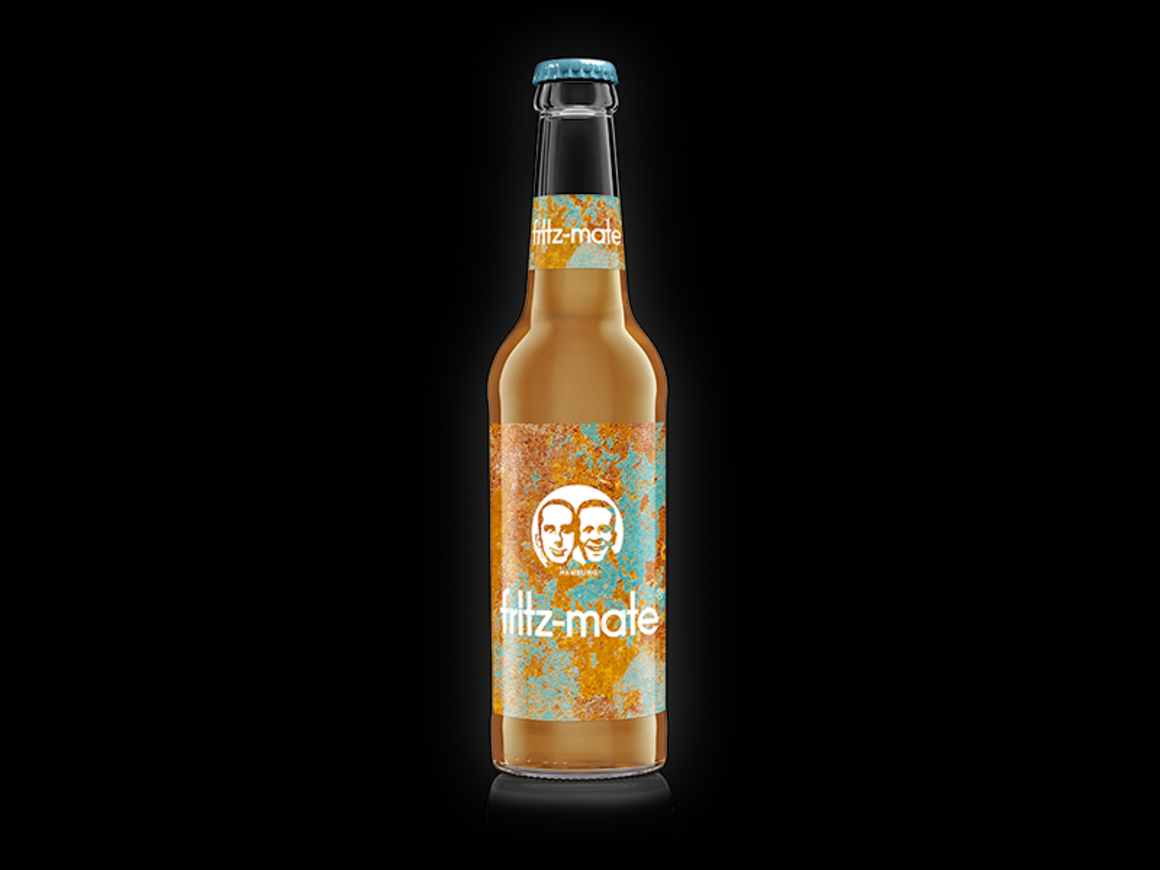 au naturel
The first organic kola is introduced. Getting greener is barely possible. With natural water, the best organic ingredients, no phosphoric acid, and fair-trade cane sugar, this is kola as mother nature intended.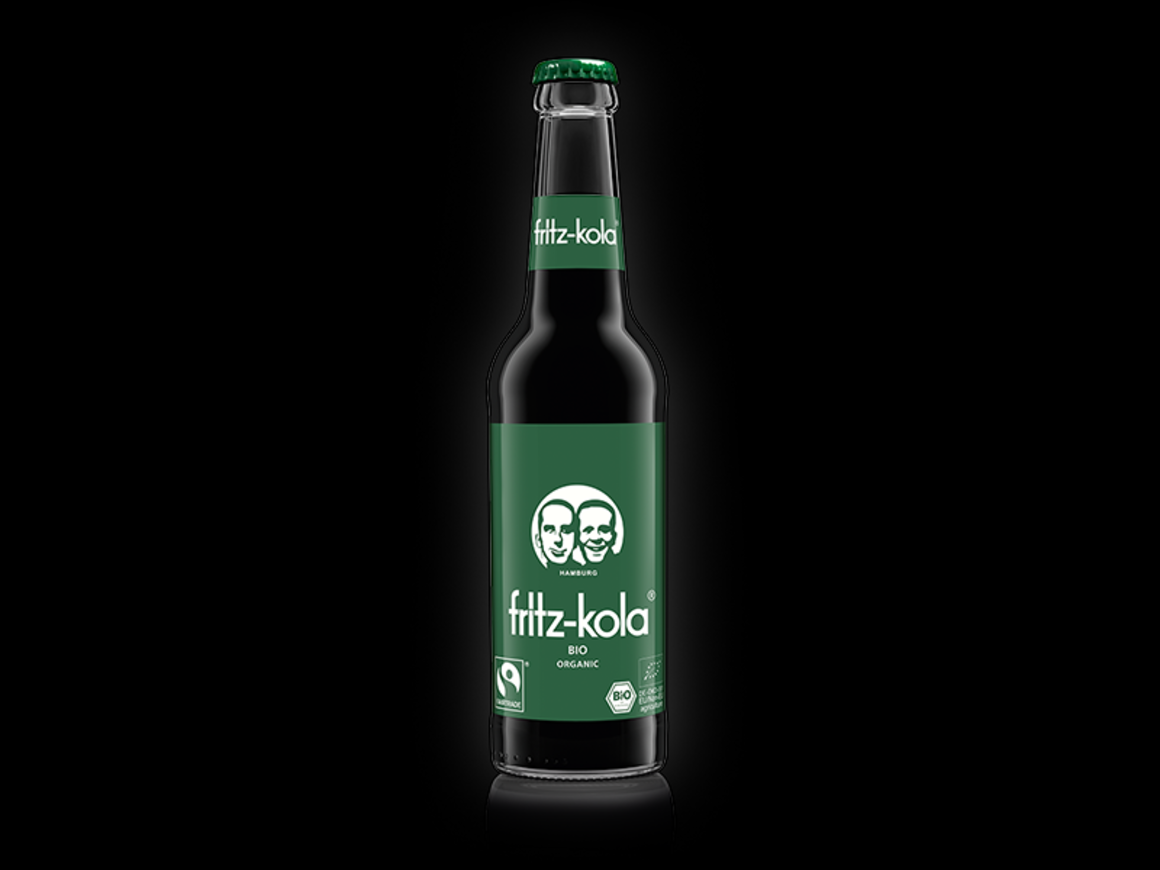 staying edgy
The new 0.2l bottle is the physical manifestation of how we do our communication – edgy.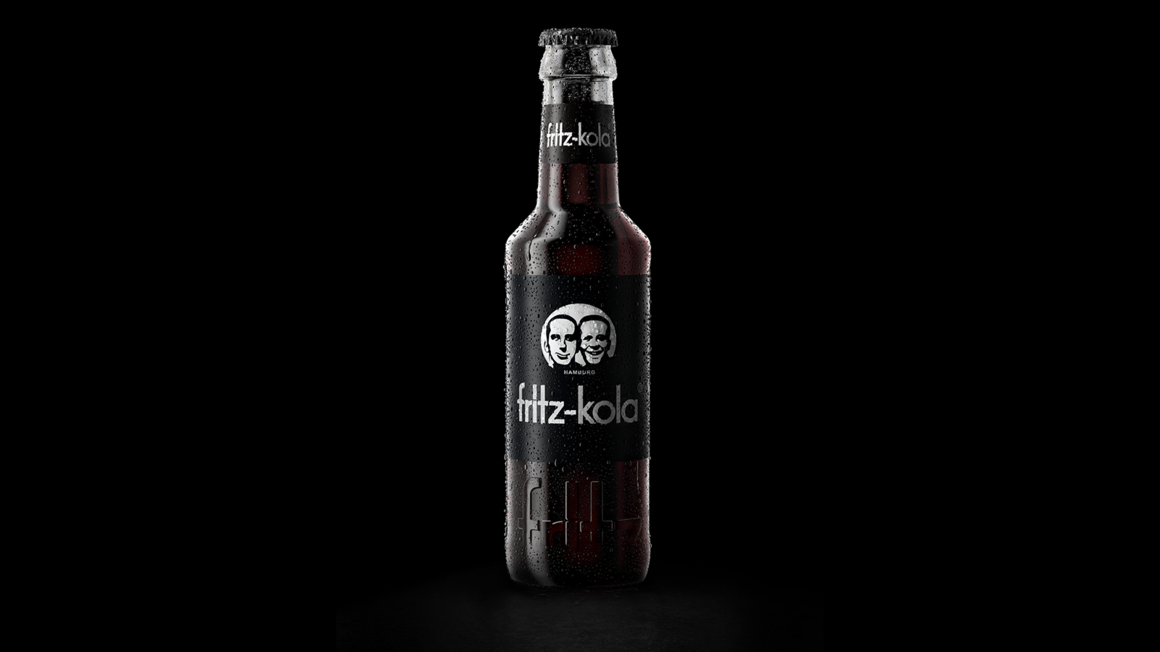 zero sugar, 100% awake
We are expanding our kola range with fritz- kola zero sugar. Bright color, bright content. With guarana as a further stimulant for extra-long nights.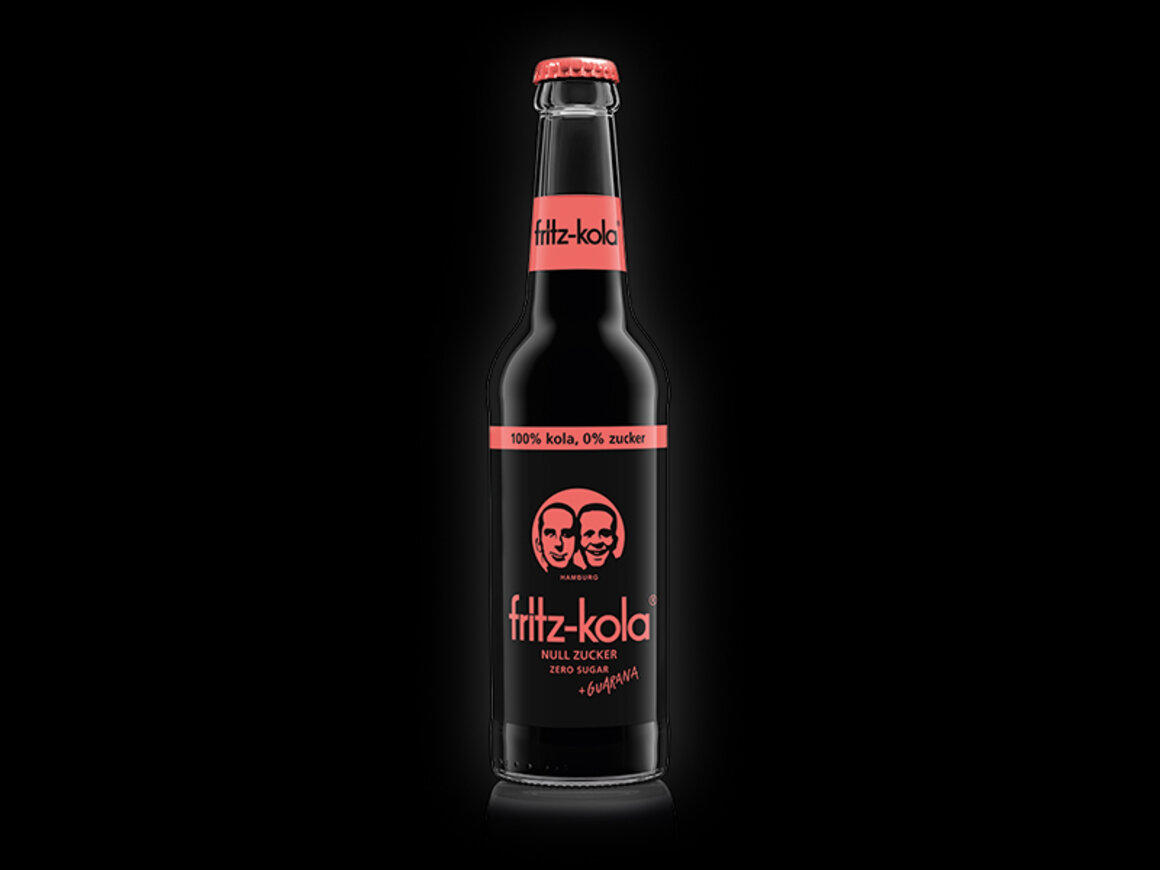 as green as it gets
We've made our organic kola even greener and tastier. Even better ingredients - purely organic - are on their way to conquer your taste buds. With natural flavours of bourbon vanilla, and oils from ingredients like lime, cinnamon bark, clove and cardamom, you'll experience the highest level of kola enjoyment.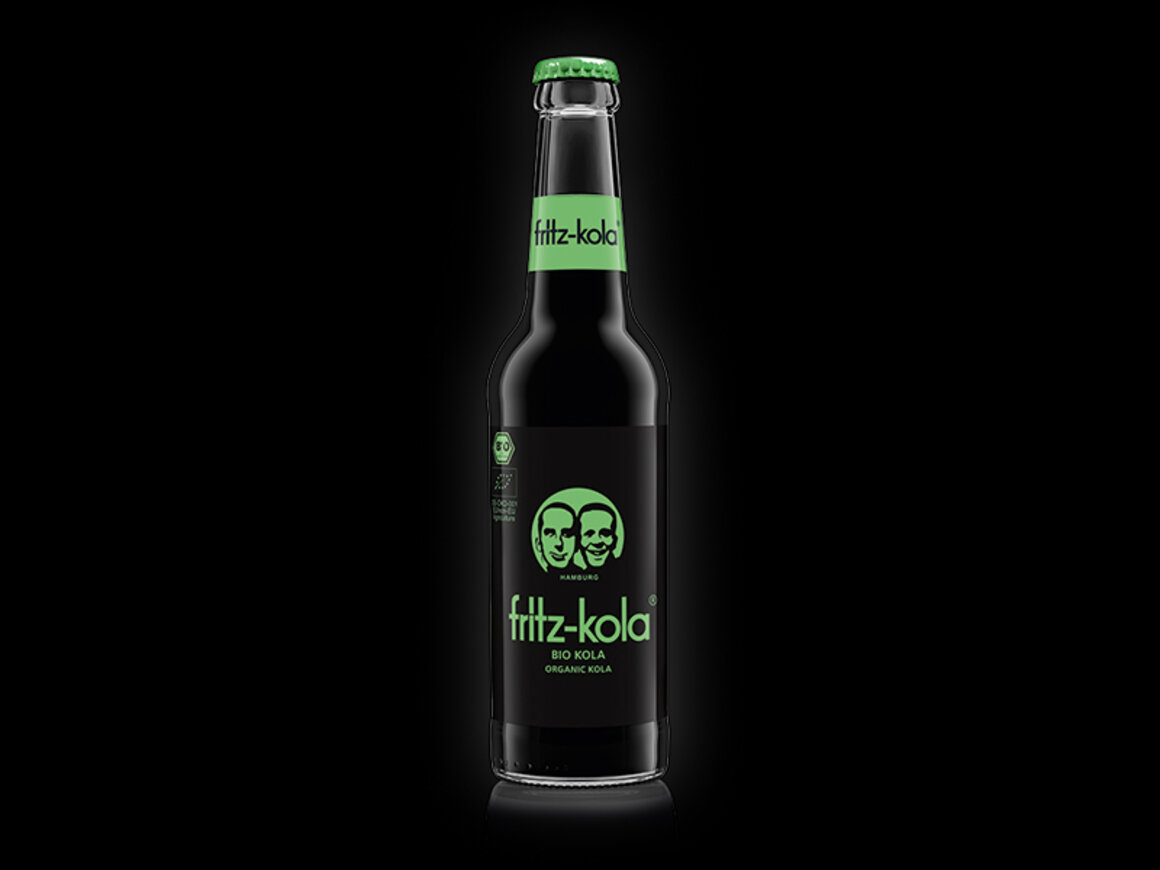 black is the new black
know what never goes out of style? black. especially our 'fritz-black' that is sustainably produced and always plastic-free. check out our shop - we got your back covered.
fritz on boards
to support the sports scene, we proudly sponsor some of your favourite athletes on boards - the 'bretterfritzen'. fitted in fritz-black they bring the high-energy spirit of fritz into the world of sports.
tune in
as you probably do too – we love music. that´s why it´s a matter of the heart to us to give young, alternative artists and bands a stage to grow big and support them in waking up the world.